Elementary Travel basketball: The boys will now play at 5:00 and the girls to follow. The games will be played at Hornersville.

The girls game against Twin Rivers has been rescheduled for Wednesday, January 19th at 4:30 pm. This will be a home game.

The girls game against Southland on Tuesday, January 11th has been canceled. We are going to try and reschedule the game and will let you know if/when it has been rescheduled.

Homecoming has been rescheduled for Friday, January 28th. The ceremony will begin at 6:00 pm followed by the JV and Varsity game. We will be playing Holcomb. The Homecoming dance will be after the game on Friday, January 28th from 9:00-12:00 pm.

The Lady Camels have another busy week. We hope to see you at the games!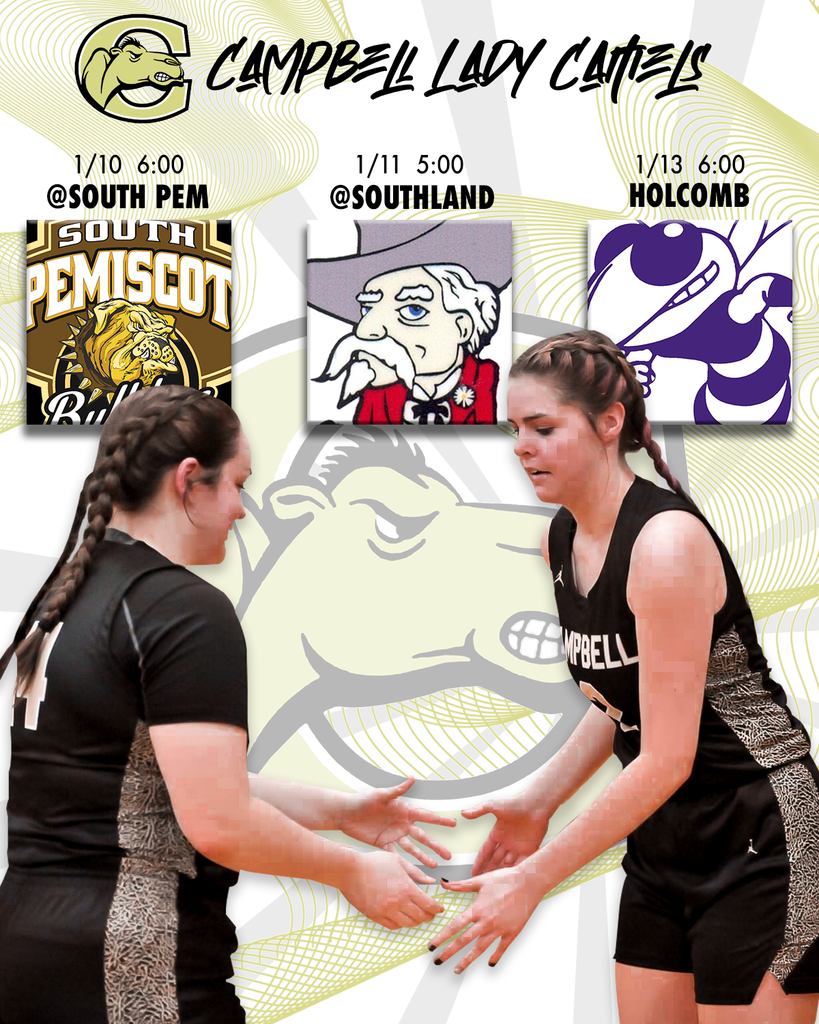 Elementary Travel Basketball Tuesday there will only be 2 games. 1 girls game at 5:00 and the boys game to follow. Bus at 3:45** Students may stay after school. Thursdays game Bus 4:15, games start at 5:00. 5th girls 6th girls Boys

No tutoring this week. Tutoring will resume next Tuesday, January 18th.
Elementary travel basketball games are cancelled for Saturday, January 8.

There will be no school Friday, January 7, 2022 for Campbell R-II. This will be a regular snow day with no AMI. The Homecoming game against Holcomb and Homecoming dance will be rescheduled. We will let everyone know when we have a new date.

The Quiz Bowl game against Holcomb for today (1/6) has been cancelled and will be rescheduled at a later date.

This is just a reminder for those who have not downloaded our new app. Three Main Benefits: 1) Know what's going on at school. Ex: Find real-time updates from the website's live feed about stories happening inside the classroom or in the art studio. 2) Connect with teachers and administrators. Ex: Learn about parent-teacher conferences, access staff contact information, and quickly find out about district news. 3) Stay up-to-date with school information. Ex: Receive updates about events occurring on campus, documents, required forms, and even emergency notifications. Our new school app can be found on the Apple App Store and the Google Play store. Please make sure you select the Campbell R-II, MO app. There is another app that looks very similar. This app will allow you to select what notifications you want to receive so you can stay up to date with specific school organizations.

The girls basketball game tonight against Twin Rivers is canceled. We will work to try and reschedule the game. All practices and events for Campbell R-II are canceled for today as well.
Elementary travel basketball practice is cancelled for today. Games Saturday will start at 10AM and run back to back. Schedule: 5th grade girls 6th grade girls Boys 5th grade girls 6th grade girls Boys

Due to the chance of inclement weather Campbell R-II will be closed today. Today will be an Alternative Method of Instruction day. School will resume Friday, January 7th.

Correction. Spirit Days are for PK-12th grade.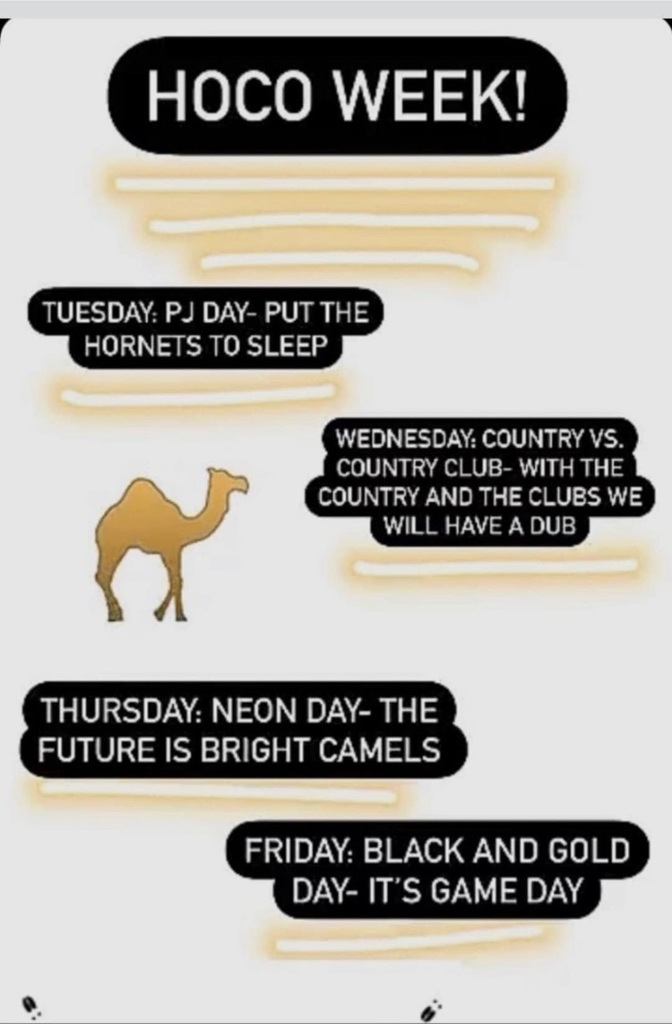 JH/HS Spirit Days for Homecoming.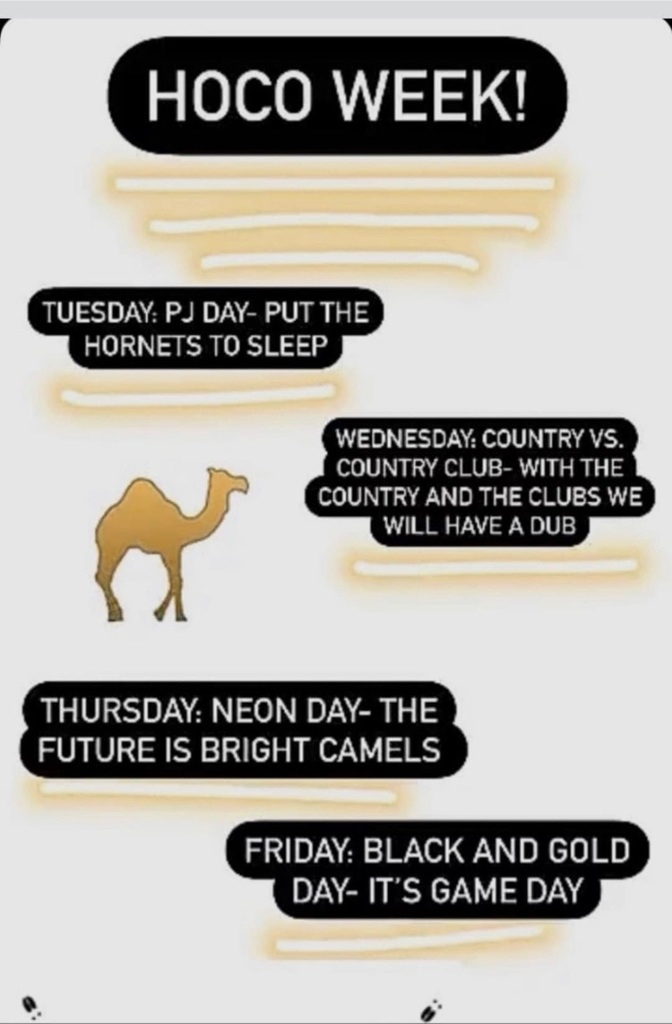 There will not be any tutoring this week. Tutoring will resume next Monday, January 10th.

The boys game at Naylor will be a varsity only game. The game will begin at 6:00 pm.

The high school Lady Camels have 4 games this week. Come out and show your support. The high school boys have 3 games this week (Monday: At Naylor, Tuesday: Home vs Clarkton, Friday: Homecoming vs Holcomb)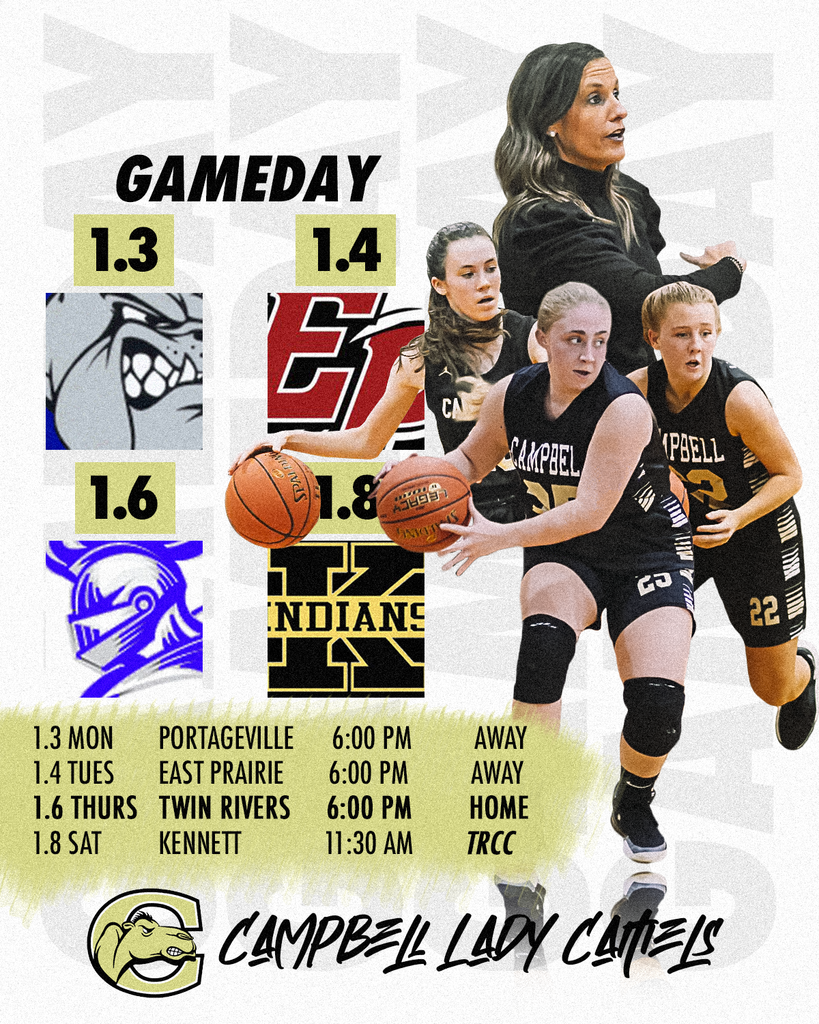 Reminder: Elementary Travel Basketball will have practice tomorrow afternoon in the high school gym. Boys 3-4 Girls 4-5 The game Friday has been cancelled.